Aside from Reno, NV being known as the Biggest Little City, it's also known for its surrounding parks and nature attractions. Being so closely located to Truckee, Lake Tahoe, and in the Sierra Nevada Mountain region, the outskirts of Reno are very tree-abundant. Certain areas may require large tree removal services.
o keep other trees healthy and your property safe, it is important to know when your trees and shrubs are becoming an issue. Some signs for large tree removal are easier to spot than others. The most common reasons for tree removal are if there are signs of decay or if the tree has been damaged. If the growth of the roots and/or branches are getting too close to your property, or if your tree is obstructing your views in any way should also be reasons to remove your tree. The moment you realize your trees are decaying is the very moment you should seek out an arborist consultant. We don't recommend removing a tree on your own since large tree removal is risky and dangerous.
If you are uncertain if there is a problem with your tree, then get in touch with a certified arborist. Our arborists have a trained eye that can determine any underlying problems such as interior decay, cracks in the trunks, and diseases and insect infestations. Our knowledgeable Northern Nevada tree experts will make the best recommendation and bring along the proper tools and equipment to do the job right. From a large Cottonwood Tree to even a fruit tree, you can can always count on Battle Born Tree Service.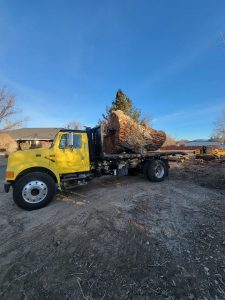 Also consider our stump grinding services. When trees are cut down, you are typically left with the stump which can be very hazardous. Our stump grinding services will effectively remove the stump from the ground while preventing new foliage from growing from the roots. To schedule a free estimate for large tree removal, contact us here!